Founder and CEO, Echelon One
Biography: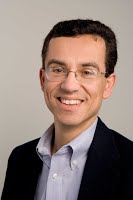 Bob is responsible for creating and executing Echelon One's corporate strategy. He has over 25 years of experience in corporate and startup environments.
Bob is a frequent speaker on the subject of information security and risk, and on global policy issues such as payment fraud and critical infrastructure. He is on the board of management for the Jericho Forum, advisory boards for Agilance, the Hispanic Information Technology Executive Council, Security Growth Partners, Trusteer, the University of Detroit Mercy's College of Liberal Arts and Education, the University of Cincinnati's College of Information Technology Advisory Board, and has also been on Securent's advisory board (acquired by Cisco), TriCipher's advisory board, a member of RSA Security's Customer Advisory Council, and the ISS Customer Advisory Council. He is quoted frequently in the press including the BusinessWeek, Forbes and The Wall Street Journal.
Previously, Bob was Chief Information Security Officer (CISO) at Fifth Third Bank in Cincinnati where he was responsible for the enterprise information security strategy. Prior to joining Fifth Third, Bob worked for Bank One in Columbus where he held several key leadership roles, including Information Security Officer for Bank One's Retail Group. Prior to joining Bank One, Bob was a manager with Ernst & Young's Information Security Services practice in Chicago, and a Senior Systems Officer with Citicorp International in New York and Chicago.
Bob received the 2004 Digital ID World Conference award for Balancing Innovation and Reality, and a 2004 InfoWorld 100 Award for implementing cross-company authentication using SAML. Bob graduated from Michigan State University with a Bachelor of Arts in German and then received his Master of Science in Management Information Systems from North Central College.
Information Integrity – The Missing Link

One of the systemic issues in protecting information is the lack of integrity in computer operating systems, applications, and critical infrastructure in general.  The vast majority of information security solutions take a reactive approach when, in fact, we should be taking a proactive approach.  This presentation will focus on integrity issues with a focus on critical infrastructure and suggest several methods on how to create a pervasive, resilient technology infrastructure.
Presentation: